So I started practicing my SFX art again, and I got to try out some new supplies. I started with a quick-and-easy sickly-looking face, and the next one I tried out my new shit (siliglass and what I thought was scar putty).
For the first one (I did this a week or so ago), I had zero opportunities to shower for an embarrassingly long time, so I used my gross stringy hair to add character. I paled my face, darkened and pink'd my eyes and waterline, and made my lips look SO chapped. I don't know exactly what I was going for, but I like the turn-out. Kinda reminded me of Helena from Orphan Black.
Got my siliglass (silicone glass) in the mail yesterday, so I experimented with whatever else I had. I thought this stuff I had was nose-and-scar putty, but it turned out to be derma wax - way too sticky to work with properly, and didn't like taking makeup or a brush. I think I disguised the shit well enough, but it's still not as good as I'd hoped it would turn out. The siliglass was a bit awkward, too. It came in large chunks I had to cut down, but I couldn't make it too thin.
Definitely
looks like real glass, though :)
And here's a new watercolour I did last Tuesday at the Lovin' Cup. Suspiria!
Next weekend, I'm 100% getting a new tackle-box for my SFX makeup. It's WAY too packed to close safely anymore. I'll be going to IMATS in Toronto on Sunday with around $200 to spend - hopefully on some Skin Illustrator palates, and maybe a matte colour palate. I forgot what else I wanted to get, but maybe I'll figure it out when I get there. Shit, what am I gonna wear??
froodle
earlier this week. I've been meaning to post photos, but haven't had a moment's time.
Some "unboxing" photos...
And one action-shot photo (though I may have more in the future.
I also frequently use the glasses-cleaner, and it is quite possibly the best I've ever owned. My Pitt Bull Surfers pin went directly onto my punk hoodie, my Order of Corn / Foreverware satchel holds some gym stuff in my gym bag, and my glorious Radford mirror went directly into my makeup basket :)
Edit: I thought the action shot included my keys and the Marshall Missing keychain, but I guess not.
Thank you,
froodle
! You're the coolest!
I got the best package in the universe from
I made a new sketchbook with a big pad of watercolour paper (I split each page -and some cardboard- into 4 small pages and punched holes in them to make a ringed book). I've filled two pages, so far.

(the picture is also a link to my facebook art page)
I'm also keeping my diet strong! I started it the day before my last period, and I somehow managed not to let that ruin it (as it has every time in the past). The diet is working well, and I've lost ten pounds!!! Dude! I also finally got my food stamps (thought I would die in the Social Services building - 3 hours), so now I can actually buy the foods I need to eat healthy.
My monthly habit board is now a weekly, so I have room for some other stuff to put up on the board. I still need to get some hanging supplies for my large inspiration board, but that should be fast coming, as I'm thinking of getting a day pass at the bus station today, so I can go to the gym and do some shopping (edit- oh... I'm down to under $20 in my account, so maybe not today). Oh yeah, I joined a gym - have only gone twice this past month, but am hoping to change that soon.
Last things I need to do is KonMari my sewing studio and clean my workshop. And replace as much of my plastic kitchen ware as I can with glassware.
I think I'm doing a good job at getting and keeping my shit together. The kitchen stays mostly clean, and I've primped it to the point where even a couple dishes left on the counter bugs me. I finally got to the point in my bedroom where it's clean enough that I can just make the bed and feel relaxed (instead of being tensed by the messiness). I vacuumed my closet, too. Damn. I still have a ways to go in regards to my desk being clean enough, though. Living room's nice again, too. Shit's been put away, and I flipped (and vacuumed) the futon cushion, so I can sit on the couch with comfort again.
Current Mood:

accomplished

Current Music:

Rose - by Anna Tsuchiya


I bought my IMATS ticket yesterday with the money I made from selling off that Wet Moon piece. Thanks, Sophie, I guess.

I am really excited, because not only will I be finally going to IMATS, but I will be going on what I think is the best day, PLUS I might be able to see my friend Liz who is going up the same weekend for the same event (she is a makeup professional at MAC)!

This makes me want to do more SFX makeup this month. I just don't know where to start. I guess I could start by buying new wax and a proper colour palate, but then again, I really want to buy one there, too.
I'll be going to Toronto Friday the 30th of September til the 2nd of October. I'll arrive Friday night to meet up for drinks with Ian (and some other Toronto friends, hopefully) at Thirsty & Miserable, will schmooze around town on Saturday, and then on Sunday, I'll be going to IMATS!!!
Current Mood:

excited

Current Music:

Invincible - by Stephen Chow and Deng Chao
I've put together small notes (about half the size of a post-it) depicting each step in each of these projects - between 5 and 9 steps per project. I'm going to take one project and clip each step to my work-board. When I complete the first step, I'll take it down and remove it. I hope it'll be a good system.
STARTING QUEUE
(not in order)
Comic projects:
-Under the Sea
-I Married James Hook
Books:
"AAAhh!!! Real Monsters! monster manual
-Firsts
-Short stories
-Marshmallow ashcan
Fan Arts:
-Over the Garden Wall
-Sparks Nevada
-Gravity Falls
-Flapjack
-Motel Monstre
-Devil's Carnival
-Another Period
-OUAT
Art:
-Josh's commission
-Draw Each Other submissions
-Memento Mori set
-Friend-Face submissions
START
-
BBBB
(probably won't get to this one)
-
Frillies & Shinies
(collaborative piece put on the backburner)
-
Sunshine & Sweet Potato
(collab - backburner)
Cast moulds
Have done this, and it's awesome. Will be working with moulds again soon.
Build a kotatsu
Build a music stand
Build a new website
Redesign old website
Fan Art:
-Welcome to Night Vale
-Adventure Time
-Hey Arnold
-Kim Possible
-St. Trinian's
-Nana
-...
New purse design (including makecup & pen compartments)
Sew new skirts
Submit applications to conventions and festivals
rejected twice.
Make new show-reels for Jeff (film, commercial, stage)
Submit "
First Date
" story to a magazine or a podcast
6x6
(and you should too!)
Art of Lost Things sculpture show
Nickelodeon storyboard
FINISH
stain wood table
put together & stain new table
Short Stories:
-My Life in Mono
-Unplugged
-Lady of Shallot
-Operation Save Point
-12:07 (storyboard)
Read Friends' books (Keegan, Eric, Meags, Brian)
Miskatonic Library project
Sketchbook Project (tm)
My sketchbook project
Transfer loose notes to where they belong
Okay, so back in February, I posted this list of things I need to start and finish, and I've decided to re-order things and cross things off a bit.
I just checked my mail and I sold the most expensive thing
I have listed on eBay
(a $175 original Sophie Campbell Wet Moon illustration)!
I'm selling off a lot of Sophie Campbell stuff (formerly Ross Campbell).
Cat out of the bag, she's my ex, and we had a nasty breakup. I'm not gonna go into details, but the breakup completely blindsided me and she gaslighted me into thinking it was all my fault, even though it wasn't. She also did this to a handful of her other friends.
It sucks to get rid of some of this stuff, but it hurts too much to look at it. I've still kept some of her older stuff, but I'm still struggling with the idea of getting rid of those - she'd personalized some of them, and even gave me a shoutout IN the last Wet Moon comic.
Hell, the Glory books already on the chopping block have a photograph of Ross that I took - Image used the other photo I took in one of the TMNT comics, too. It's like cutting off that one part of me that felt useful to her (at one point, hearing about the other friends she ditched, I assumed she dumped me because I wasn't useful to her career).
Anyway, I have some of her original Hunger Games illustrations, Wet Moon prints, and a couple comics left.
OMG OMG OMG
After cleaning all my most used rooms (my workshop has no circulation, so it's way too hot to use or clean over the summer), I took everything that needed to be put in its place and did just that.
I did a practice run of a morning routine to see how much time I need to get ready for workdays. Roughly 45 minutes. That means I have to set my alarm 15 minutes earlier to be able to not feel rushed.
I should time the rest of the stuff I do throughout my day.
I made a lot of additions and a few subtractions that made everyday life easier.
Kitchen stuff: paper towel holder, potholder holder (which was a paper towel holder I found in the attic immediately after buying a new one), a much more functional (and cuter) drain-catch, and a sponge holder. I also removed a small-but-tall shelf from my room and put it in a perfectly sized gap on the counter between the cabinet and stove. I put my most-used spices and oils on it. Top shelf for the kettle, bottom shelf for the bucket of cooking utensils. It makes the kitchen seem so much bigger.
Bedroom stuff: cute photo boxes for photos, cards, and important mail I can't just get rid of yet, a basket for all my (non-makeup, non-hair) primping products and medicines, a cool skull box for all my hair accessories and bracelets (holy crap, I needed that one), an extra drawer for my socks, a new case for my makeup, a habit-changing board, an inspiration board (which needs extra support - it is huge, and it just fell off my wall), and donated a bunch of crap to make room for things that needed new homes.
Living room stuff: A new table with chairs from IKEA (second-hand), a new couch, moved my Wii back from the workshop. And that's about it. I didn't do much with the living room yet.
Sewing room stuff: Got rid of two huge clusterfuck drawers of crap (and then Charles promptly moved new stuff back into it. Sigh).
Other ways I'm trying to improve myself: better bras, actual eye-makeup remover (I just use cold-cream as close as I can and then finish it up with baby shampoo), cleansing conditioner to replace shampoo/conditioner, back on my estrogen-dominance meds, actually doing the things I say I'm going to do (this one's pretty hard), paying attention to my spending, saving money, preparing shit the night before, low-carb diet, and de-cluttering my life. It's a steady process, but I'm glad I can do it.
Sorry this post was boring as hell.
I'm trying to be organized. Part of that is cleaning my house from top to bottom (I literally started at the top, cleaning my entire attic. It's beautiful up there; or it would be if it had a proper ceiling and swept floor - no broom in the 'verse can sweep that amount of dust).
Current Mood:

accomplished

Current Music:

Good Little Dictation Machines - Jimmy Urine & Chantal Claret - Alleluia! The Devil's Carnival 2
Not for real, just...
I've gone over my budgeted hours and I can't work again until September 2nd.
So hey, did you know I sell Steampunk Jewelry?
Here's a link to my etsy:
PITY ME
(or at least spread this link around)
I just got fired.
Aside from giving Emily another henna job while we watched tv, I didn't even get much done - I just wanted to shut everything out and veg on the couch. Til Charles came home to report what's happening around the corner from us. A giant protest rally with every single city cop wearing riot gear in formation, blocking off the entire East End, slowly backing the protesters into an alley, ready to wrangle them into a paddy wagon. I walked down there and watched - slowly getting closer, until a fight broke out not ten feet from where I stood - in the dark, it's just a mass of fists and billy clubs and people falling to the ground, disappearing into the swarm. I couldn't get over my shock enough to capture it, but I got some video footage right afterwards (you can see it by looking up @fawndolyn on instagram).
During the week, I translated the first episode of a Quebec French show called Motel Monstre, which I saw on TV during my last trip to Toronto. It's a kid show, but I really enjoyed the cinematography and character designs. It's cute. And I think a kid show is a good start for learning Quebecois.
It took an episode and a half to realize maybe I should take notes on some of the colloquial pieces I run into. And it took half an episode to realize I accidentally started from the end, and had translated the
last
episode instead of the first (I finally finished the first this week).
At home, I'm taking my translation and the clean video from the website, and am using Premiere Pro to put subtitles on (I've found it easier to create titles burned onto the video itself, instead of making a subtitle track - maybe someday, I'll learn the other way around). Placing the subtitles is tough, but it's really helping me be able to get a good ear for Quebecois.
My ultimate plan is to try to finish an episode a week and upload it to either Vimeo or YouTube, but sitting at a computer for so long gets hard, especially in the summer heat. I may have to say every
other
week, and hold off til I have a few under my belt to get uploading.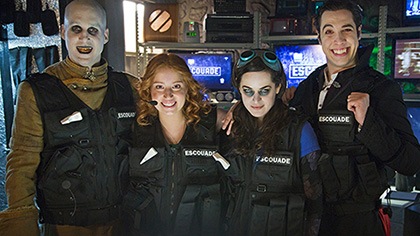 My friends Jackie and Chris got married over the weekend. I overate and spent a good portion of the evening with a bad stomach-ache, and leaving the room to lay down somewhere else. I will eat like a bird usually, but when I'm around a LOT of food, my willpower goes out the window. Everything tasted amazing, though! And I had a good time otherwise.
They had a bit of a Harry Potter theme going - The wedding and reception were held at the Colgate Rochester Crozer Divinity School, which is the closest look Rochester has to Hogwarts. The placement cards (for who sits where) were scattered around a sorting hat, and next to that, the party favours were bags of Bertie Bott's Every Flavour Beans, and little Gladiolus bulbs made out to look like Mandrake roots.
I felt like I wasn't meant to dance with the bride or groom, though. I danced with Chris a little bit, and we talked about the honeymoon, and Japan, and he revealed that he minor'd in Japanese, and actually went to Japan. What? I wanted to know so much more! But no, Jackie stole him away from me. And then when Jackie beckoned me onto the dance floor, she said she hasn't gotten to dance with me all night, and that's as far as we got before she got called away to someone else. I felt really sad about that and there was nothing I could do about it except watch everyone else get their chance with them.
But to end it on a happy note, I really did have a good time. Plenty more happy moments than not (there's also a video of The Kiss on my instaG).
Pokemon Go... oh boy.
I don't know shit about Pokemon, but I downloaded it to see what's all the rage. It's cute, but even on energy-saver, it drains the battery, and skyrockets my data usage. After my first day, I got a text saying I've used 90% of my allowance (not sure where I was at before, but I usually get notified when I'm at 75%, too). I'm not going to talk about the conspiracy privacy thing (apparently, the privacy policy gives full access to gmail).
The data/battery aside, this game shows a lot of benefits.
First, it gets people (who might not otherwise) out of the house and walking around. And with as big a hit as this is,
all
the Poke-nerds are coming out to play, and you walk down the street, or look at the large groups of relatively young people in any area, and they're all looking at their phones, and it's different than any other group of young people who look at their phones. It's like watching zombies, but they socialize in a different way. They still talk to each other, even in passing, you might hear, "Happy hunting!" from a passerby. And no, people aren't walking while glued to their phones - you put your phone down by your side and walk. You'll feel a buzz when a pokemon appears (and it won't disappear before you've finished crossing the street, so hurry up).
And that's the second thing. Not only are people getting a little bit more exercise and breathing fresh air (good for physical and mental health), but they're
socializing
. Back in the day, Pokemon was played with other players - that much hasn't changed. Then there was the show and the video game, and the social aspect was taken away. Nobody left the room, the basement, the corner of a school lobby... Now, like an old fashioned card tournament, people are getting out there and meeting other players. Meeting new people. On my first day, I exchanged knowing glances and met a bunch of people at one spot alone. They gave me a few good tips, and we all hunted together. It was great. I saw people exchanging info on the park bench, groups moseying over to other groups to chat, and I just thought it was all pretty cool.
Even in the middle of the night, the little hotspots around town had a few people chilling out.
As for this week, nothing much. Going to see Gin Blossoms tomorrow. Going to see Weird Science on Friday. Oh! I started my pole classes! Holy hell, my arms are gonna be ROCKIN' at the end of the summer! And hardcore pms-eating.
For the rest of the week, I shall prepare an asexual-aware goth outfit for the pride parade on Saturday. It will most likely be the ace colors via accessories and buttons.
Last week, I shut off Facebook (it was mostly over the weekend, but there were some weekdays in there. I couldn't handle being bombarded with news of shootings, politics, and conspiracy theories, and I just had enough of reality.


Ever since I got a sweet new Logitech keyboard, I've used the filthy one for student use only, by slipping it on the other side of the monitors, so they can use it when they come up to the desk (as someone who likes to avoid student germs, this is my best idea yet). I also popped off the two Enter keys, because either habit (or just sheer idiocy) forces them to hit enter when they've finished typing pretty much anything, regardless if they can see that there's a whole form to fill out (it really messes things up to hit enter early).

So D came in and stopped at my keyboard to bitch about it. "What's going on with this keyboard?" My co-worker Y and I look over and see nothing wrong with it. "What do you mean? It's been there for half a year now," I replied. "What's going on with it??" I moved my monitor to see if there was anything wrong with it. Y asked if there was something on it. D held it up and said it's busted up. "I took the Enter keys off. It's been like that the whole time." "Whatever."

And then she moved on to me.

We discussed summer scheduling - there were going to be three weeks at the end of the summer where no one (except the librarians) would be monitoring the computer lab for the first hour we're open (8am. My job doesn't start til 9 - I'm in a different department, despite my desk being located in the library). The main concern is printing a sheet of guest passes, (an ability I have, but have never used). Only one person comes in over the summer who uses it, and he comes in 2 or 3 hours AFTER MY OWN shift, meaning, no one really NEEDS to be here an hour early for purposes of printing this paper at its usual time.

I was turned to my desk, finishing up helping a walk-up student when I hear, "if all else fails, Fawn'll just do it."

I turned around and tried to hold back my laughter as I said, NO. I didn't want to have to get up an hour earlier. She was dumbfounded and demanded an answer. "Who are you to say no to me?"

Since we've had a pretty easy and laid back relationship til now, I wasn't sure she was seriously upset about this or not, so I said it. "I do a lot of -"

"WHAT DO YOU EVEN DO?"

I... was totally caught off-guard here, and it only got worse. I could barely get in any words as she went off and insulted me and my job.

I tried to say that I have gotten up early for her in the past, and I have jumped through hoops just to please her, just to get some recognition of going above and beyond my job description: when she needed someone to open the lab at the other campus, I'd get up at 5:30am just to take two buses to the other campus and open at 7:30. When she needed someone to cover AV here, I was transferred against my wishes, and put to no use. When I was needed at MY job here, I came over with no complaints. When someone needs to come in at night, I'm always the one, despite no one being here at night. Fuck, she even pressured me into making a cake for her daughter's wedding, which I assume is just because she thinks she can take advantage of the fact that I don't generally ask for money from friends - which she is not.

I tried to say these things, but I couldn't get any full sentences out as she ripped into me. Saying, I need to go and get a real job, because this job isn't real. That she'll take this into consideration when thinking about hiring a full-timer for my desk at the new building (a job that currently doesn't even exist, but something I've been working toward the entire time I've been here). That I wouldn't get up an hour earlier for the job.

Let's ignore the fact that my job doesn't start til 9am, when my job's hours of operation start. Let's ignore the fact that she's constantly bringing up my budget and that I might have to take (unpaid) time off at the end of the fiscal year because I'm running close to the end of my budget - and now she wants to tag on an extra 15 hours. Let's ignore the fact that if I had a full-time job here, I'd be on salary and making more than $10/hr. and that's worth the sleep loss. Let's ignore the fact that I'll have to get up earlier for the same job at the new building anyway, so I can get to the further destination on time.

Because she apparently ignores all the things I do for her. And she has the audacity to cut me down for saying No ONCE in all the time I'm here. Maybe I have something going on at night and could use the extra hour's sleep. Does she even ask? No. She asks what I even do here. She dangles a non-existent fantasy job in my face, treats me like a peasant who dares reject her scraps, and asks what I even do.

You know what, lady, you read my justification letter. You know damn well what I do here.
My boss's boss D came in like a storm and wrecked everything in her path. She started with the keyboard.