I finished a piece of art, and got a good start on cleaning my bedroom. Here's the art. It's an Adventure Time fan art (since I've been binge-watching the show these past few weeks): Fionna vs. the Ice Queen!

(and [link] for tumblr reblog purposes)
Going through all the paper that's accumulated over the months has shown me that I have A LOT of projects I never finished, and some I planned and wrote down but never even started! When I get back home, I'm planning to open up my day planner and write down what projects I ought to be working on every week until I run out of projects to complete (which seems impossible, as I'm always coming up with ideas I never finish/start).
I also scanned some old ATCs (artist trading cards) that I made, and threw them up on my facebook (note, I am still using FB on the desktop, but that's almost exclusively at work only).
I'm not going to bring over the images, but I made the album public on my fb [
here
].
I also bought some sweet art from my friend Dextra! She did this luscious piece of David Bowie, and you can own it too! Click the image to get to her etsy page :)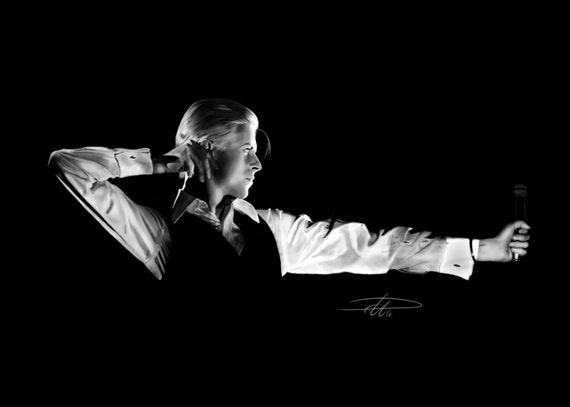 In other news, I hit the craft store to buy some fabric for making either a purse, a skirt, or both, if I have extra scrap.
Then I got a call. Brian is in the hospital. His recklessness finally caught up to him, and so did the cops. Thursday, I found out he'd gotten banned from Java's - who knows how long ago (I've been avoiding Java's for a week). He had an altercation with one of the baristas and the cops got called. I was hoping to visit him today, but I couldn't get a ride. Fingers crossed for tomorrow.
I deleted the FB app and I almost immediately felt the pangs of addiction begging me to bring it back "just for a few minutes, please!" Still do! But luckily, there are many (albeit, quick) steps to getting it back on, and guilt reels me back to keep good on my purge when I consider starting the process.