Day 01 → Your favourite song
Day 02 → Your favourite movie
Day 03 → Your favourite television programme
Day 04 → Your favourite book
Day 05 → Your favourite quote
Day 06 → Whatever tickles your fancy
Day 07 → A photo that makes you happy
Day 08 → A photo that makes you angry/sad
Day 09 → A photo you took
Day 10 → A photo of you taken over ten years ago
Day 11 → A photo of you taken recently
Day 13 → A fictional book
Day 14 → A non-fictional book
Day 15 → A fanfic
Day 16 → A song that makes you cry (or nearly)
Day 17 → An art piece (painting, drawing, sculpture, etc.)
Day 18 → Whatever tickles your fancy
Day 19 → A talent of yours
Day 20 → A hobby of yours
Day 21 → A recipe
Day 22 → A website
Day 23 → A YouTube video
Day 24 → Whatever tickles your fancy
Day 25 → Your day, in great detail
Day 26 → Your week, in great detail
Day 27 → This month, in great detail
Day 28 → This year, in great detail
Day 29 → Hopes, dreams and plans for the next 365 days
Day 30 → Whatever tickles your fancy
Day 18
Um... I don't know what tickles my fancy right now. I had an idea of what to put here, but not anymore, so I'll just post this photo manipulation from a few years ago:
Through The Looking-Glass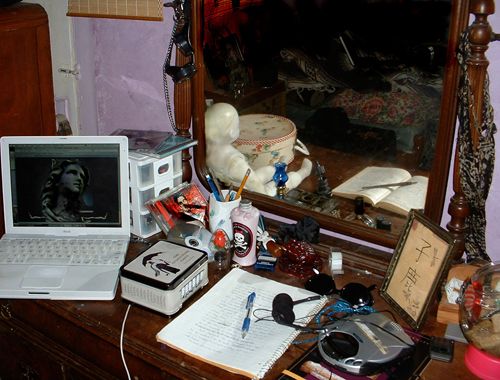 Most people don't get it right off the bat, but it is a peculiar piece (the title is the give-away). Very photoshop'd ;) (of course, old fans of my journal will see it right off the bat and won't be fooled twice).
Day 19
Well, since I'm headed in that direction anyway, and am trying to whore myself off to a couple of friends in this area (right this minute, actually), I have to say, one of my talents is in Photoshop. I learned photoshop (and could actually teach it) years before I ever took a class for it. I particularly love doing photo manipulations and touch-ups :)